Voyager 5200 UC
Author: Eden Fried Date Posted:1 December 2016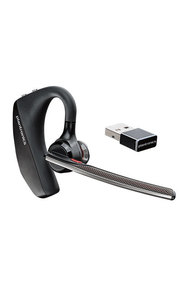 Voyager 5200 UC
If you're the person at the office who's got a phone glued to your ear for much of the day, it might be time to check out the Voyager 5200 UC. It's the newest release from the Plantronics Voyager product line and it's most definitely a keeper.
The Voyager 5200 UC connects to your tablet, mobile device or laptop, and is perfectly suited for mobile workers who are constantly on the go. While the workday is often unpredictable, the reliability of the Voyager 5200 UC is not. It won't matter whether it's a loud day or a quiet one, a hectic day or a slow one, Plantronics equipped the Voyager UC with smart, perceptive technology to make your day easier to manage and hassle-free. Well, maybe not hassle-free, but it certainly nixed "headset hassle" off of your worry list.
Best Voyager 5200 UC features:
Noise Cancelling Technology
The WindSmart Technology and adaptive microphones make for the perfect recipe for a crystal clear conversation held from just about anywhere. Take a stroll in the park, chat while shopping for groceries, or dial into a conference line while dancing through the rain. No matter where you are, the Voyager UC's top-notch noise control and noise-cancelling technology lets you rest easy that you'll be heard clearly on the other end.
Long Lasting Battery
Your worst batter fears are put to rest with this new headset. With over 7 yours of use, plus up to 14 hours with the portable charger, you'll be trucking your way straight through the workday without the disruption of a charging break.
Smart Sensors
If nothing else, the Voyager UC's Smart sensor technology won't fail to "woo" you. It knows when the voyager is on your ear and when it's not, so you can quit juggling so many things at once. With the smart sensor technology, answer a call simply by putting the headset on, transfer a call to your phone by removing the headset, and pause your music by removing the headset. It's really that simple.
Incomparable Comfort
Trust me on this one, you'll feel the same way wearing the Voyager 5200 UC at the start of an eight-hour day, as you will at the end of an eight-hour day. That's no exaggeration, either. The Voyager UC is light, easy to wear and extremely comfortable so you can focus less on comfort and more on your work.
Voice Control
The Voyager 5200 UC's voice control feature lets you manage your day without lifting a finger. Make a call, answer a call, ignore a call, send a message, schedule a meeting and, well, the list goes on. Simply voice your desired action (like "answer", "ignore", "call", etc.) into the boom of your headset and Siri, Cortana or Google Now will execute your command.
Here's the Bottom Line
If you're in the market for a new headset, you know already that there's no shortage of headset options. But, thankfully, there's no need to overthink a very simple purchase when the Plantronics Voyager 5200 UC already does all of the thinking for you. Maximize your productivity with a comfortable, easy-to-use headset, with top-notch noise quality and intuitive technology. So, go ahead, we dare you. Take back control of your workday with this 21st century headset built especially to meet the demands of today's increasingly agile workforce.
---
Leave a comment