The Best Headset for Skype for Business
Author: Eden Fried Date Posted:26 October 2016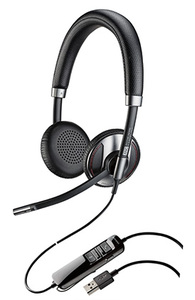 The Best Headset for Skype for Business
Ever driven a car requiring premium unleaded? Ever have to fill the tank of that car?
I've been there a few times, actually, and vividly recall staring at the fuel gauge wondering if I could get away saving a few cents on regular fuel rather than investing in the car's required premium fuel.
Don't worry. I always cave and begrudgingly loosen my wallet strings (though try as I might to avoid making a habit of it). Mostly because I'm afraid the car might combust if I were to mix premium and regular fuel together - don't mock me… I know I'm not alone in fearing this.
Okay, so the car won't spontaneously combust if the wrong fuel is used, but you're kidding yourself if you believe it will still run the way it should. There's a reason car companies make suggestions regarding fuel grades and, yes, there's a reason why you should listen to them.
Using regular fuel in a premium unleaded car is sort of like having an awesome video conferencing tool with a sub-par headset. Sure, the conferencing tool still works - but the headset is poor quality, the audio connection is fuzzy and distracting, and the microphone makes you sound as if you're a kilometre away.
So, yes, you absolutely could save a few bucks on a cheap headset, but don't be so shortsighted as to think it won't have negative ramifications.
As a Skype for Business user (yes, if you haven't already caught on, Skype for Business is the "premium unleaded car" in this analogy), your first step before purchasing a new headset should be the Skype certified product list, where you'll find the Plantronics Blackwire.
The Blackwire range is ready to go right out of the box, and seamlessly integrates with Skype for Business.
Skype for Business is the leading tool in virtual workplace communication and collaboration. So your best bet is to do your homework and invest in a great headset.